Every small business owner, once they've hung out their shingle, needs to start marketing right away. Entrepreneurs now have a much wider range of tools which can help build their customer base and increase their audience across multiple platforms than ever before, but learning how to use these tools effectively takes time and knowledge.
Below are a number of tips, tricks and ideas from experts that any new small business owner can utilize for their own marketing efforts. Try some of these out to spread the word about your new business.
Use Social Media to Find People Interested in Your Business
People do use search engines to find business, but they also use social media. Every entrepreneur can benefit from creating profiles on the most popular social media platforms. Your web page can show basic information, like hours and location, while your social media pages can also announce promotions and special events. Social media can also serve as a customer service portal.
It is recommended that you only use one or two channels to start. Each channel you add brings another layer of complexity to your marketing. Do your research beforehand to see where your audience is most likely to hang out.
Go Mobile First For PPC
Over half of search engine inquiries are performed on mobile devices. Thus, if you plan on using pay-per-click advertising for your website, you should optimize your site and your ads for mobile users. For instance, one feature used in mobile PPC is a click-to-call option. By clicking on the ad, the client is connected directly to your business via phone. You can use PPC management software to help you plan your early campaigns.
Build Your Mailing List
An email list is a valuable asset for any small business. It provides one of the most valuable channels for marketing and is usually done by offering some sort of offer on your website. You can build your email and contact list by offering a free report, tip sheet, or webinar in exchange for their contact information. According to search engine optimization expert, Neil Patel, offering content upgrades within the first few paragraphs of your website or blog can quickly build your email list.
Organic Search Success Means Being Strategic and Consistent
To rank high in Google you need a strategy. Start by analyzing the keywords that both you and your competitors are using and seeing what differences you have. There could be a keyword you are missing.  By using backlink checker tools such as Ahrefs and Semrush you can see which keywords bring the most traffic. By checking this information regularly and consistently you can greatly improve your search engine optimization and your ppc management by altering your keyword focus.
Track Your Metrics on Your Website
Metrics are the only way that you're going to get an accurate vision of what's going on with your website. By installing Google Analytics to track each conversion and each visitor, you can get hard data to support your hunches about what's going on. Knowing what works and what doesn't opens the door for more conversion optimization… increasing your sales.
Keep Your Blog Updated
Keeping your blog updated regularly is as important. Regularly updating your blog with new content establishes you as an expert in your industry and also improves your search engine rankings. More blog posts will attract websites to link to your posts and content and will attract traffic back to your website.
Follow these fundamentals and you'll soon be bringing in business. Try focusing on improving one for the next quarter. Each one is rather deep once you get into it!
Author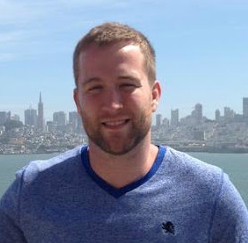 Chris Hickman is the Founder and CEO at Adficient with 15 years of experience in search marketing and conversion optimization. Since 2006, he founded GetBackonGoogle.com, helping businesses and websites suspended in Adwords to Get Back on Google